Upadacitinib (Rinvoq) appears effective for atopic dermatitis (AD) in adolescents and adults, with no unexpected safety concerns, according to two new duplicate phase 3 trials.
The Measure Up 1 and Measure Up 2 trials, each pitting both 15-mg and 30-mg doses of upadacitinib monotherapy against placebo, demonstrated major improvements in all aspects of AD with the active drug, including skin clearance, itch, and patient-reported quality of life.
The Janus kinase (JAK) inhibitor is currently approved by the US Food and Drug Administration for the treatment of rheumatoid arthritis and is being investigated for several other inflammatory conditions.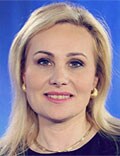 "These are exciting results in terms of quick onset of response and maintenance of response in the patient population with moderate to severe atopic dermatitis, including adolescents," said lead investigator Emma Guttman-Yassky, MD, of the Icahn School of Medicine at Mount Sinai in New York City.

"I think the dermatological community and patients need an additional drug" for AD, "particularly an oral form," Guttman-Yassky told Medscape Medical News. "The flexibility of dosing is also particularly important with an oral, because if patients are more severe, we may need the higher dose, and all patients may need a higher dose to get the response in the beginning."

"Both doses are effective, but the rapidity of response is higher with the higher dose, so there's a strong rationale for both doses," she added.

Guttman-Yassky presented her research at the virtual European Academy of Dermatology and Venereology (EADV) Congress 2020.

The pair of randomized, double-blinded, multicenter trials included a total of 1683 participants who ranged in age from 12 to 75 years and who had experienced moderate to severe AD for 3 or more years. Between 12% and 15% of trial participants were adolescents.

In both trials, participants were evenly assigned into groups to receive upadacitinib 15 mg, upadacitinib 30 mg, or placebo once daily for 16 weeks. Coprimary endpoints at week 16 included a 75% or greater reduction in score on the Eczema Area and Severity Index (EASI 75) and the proportion of patients who achieved a validated Investigator's Global Assessment for AD (vIGA-AD) score of 0 or 1 with two or more grades of reduction from baseline.

In both trials, the percentage of patients who achieved either EASI 75 or vIGA-AD 0/1 at week 16 was markedly higher with both doses of upadacitinib compared to placebo (P < .001).

In the upadacitinib 15-mg groups, EASI 75 was recorded in 69.6% in Measure Up 1 and 60.1% in Measure Up 2. Proportions were higher for patients who received upadacitinib 30 mg, reaching 79.7% in Measure Up 1 and 72.9% in Measure Up 2. In the placebo group, EASI 75 was recorded in only 16.3% and 13.3%, respectively.

In the upadacitinib 15-mg group, vIGA-AD 0/1 was achieved in 48.1% in Measure Up 1 and 38.8% in Measure Up 2. The upadacitinib 30-mg group logged 62% and 52, respectively. For patients who received placebo, rates were 8.4% in Measure Up 1 and

…