Daily icosapent ethyl (Vascepa) safely and effectively reduces fatal and nonfatal ischemic events in patients with reduced kidney function, a prespecified analysis of the REDUCE-IT RENAL study shows.
"Some cardiovascular drugs are not as effective in kidney disease patients," said investigator Deepak Bhatt, MD, MPH, from Brigham and Women's Hospital Heart and Vascular Center and Harvard Medical School, Boston.
"So we looked at patients according to their eGFR — in particular, patients with an eGFR of less than 60 mL/min per 1.73 m² — because we wanted to make sure the drug was as safe in those patients as it was in others and that they weren't having any more side effects than others," he told Medscape Medical News.
Icosapent ethyl, a highly purified prescription formulation of the omega-3 oil eicosapentaenoic acid, has been shown to lower triglycerides and have anti-inflammatory, antioxidative, and plaque-stabilizing properties.
In the original phase 3 Reduction of Cardiovascular Events With Icosapent Ethyl – Intervention Trial (REDUCE-IT), 8179 patients with cardiovascular (CV) disease or diabetes and one additional CV risk factor were randomized to treatment with icosapent ethyl 4 g a day or placebo. Patients had to have a fasting triglyceride level between 150 and 500 mg/dL to be eligible for study enrollment, and a low-density-lipoprotein (LDL) level between 41 and 100 mg/dL.
The primary end point was a composite of CV death, nonfatal myocardial infarction, nonfatal stroke, coronary revascularization, and unstable angina. The key secondary end point was a combination of CV death, MI, and stroke.
At a mean follow-up of 4.9 years, there was a 25% relative risk reduction and a 4.8% absolute risk reduction in the primary composite end point in the REDUCE-IT study, as previously reported by Medscape Medical News,
For the REDUCE-IT RENAL study, REDUCE-IT patients were categorized into three prespecified eGFR categories: less than 60 mL/min per 1.73 m²; 60 to less than 90 mL/min per 1.73 m², and at least 90 mL/min per 1.73 m².
In the cohort of 8179 study participants, the median baseline eGFR was 75 mL/min per 1.73 m² (range, 17 to 123 mL/min per 1.73 m²) and the mean LDL was around 70 mg/dL.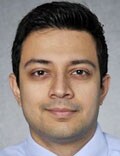 CV event rates were higher in patients in the lowest eGFR category — less than 60 mL/min per 1.73 m² — than in the other categories. With icosapent ethyl, reductions in the primary and secondary end points were greater in the lowest category, although relative risk reductions were similar in the three categories, investigator Arjun Majithia, MD, also from Brigham and Women's Hospital, reported during his presentation at Kidney Week 2020.
Risk for Events With Icosapent Ethyl by Baseline eGFR Category
eGFR (mL/min per 1.73 m²)
Relative Risk, %
Absolute Risk, %
Number Needed to Treat
P Value
Primary end point (composite of CV death, nonfatal MI, nonfatal stroke, coronary revascularization, unstable angina)
<60 mL
–29
–7.1
14
.0002
60 to <90
–20
–3.8
27
.001
≥90
–30
–4.8
21
.003
Secondary end point (combination of CV death, MI,
…