In early January of 2011, Georgetown University freshman Michelle Konkoly returned to campus from a training trip to Puerto Rico with the school's NCCA Division I women's swimming & diving team. She was pumped for a postseason run and for her second semester as a biology major. The future looked bright. "I had a pretty good fall semester," she said. "I was in the middle of the swim team with a lot of potential and had my eyes on the record board." Her focus would soon dramatically change.
On the evening of January 11, Konkoly opened a window in her dorm room to let in some fresh air. She stood on a desk to pry it open, lost her footing, and fell feet-first out the window to the ground, five stories below. She shattered multiple bones, including her L2 vertebrae in her spine. She was rushed to George Washington University Hospital, where she underwent three surgeries to fuse her shattered spine and heel bones.
Now 28 years old, Konkoly is a fourth-year medical student at Sidney Kimmel Medical College in Philadelphia, Pennsylvania. She still sees her future as bright. In fact, the accident paved the way for her to become a Paralympian and influenced the type of physician she intends to be.
Finding Hope
In the initial aftermath of her fall, Konkoly had no idea what her life would hold. "Doctors avoided giving a long-term prognosis right away, which is reasonable," she said. "I could wiggle my toes a little bit right after the accident. Because of that, there was hope."
That hope would fuel a long recovery. After an initial 2-week hospital stay, Konkoly was transferred to Magee Rehabilitation Hospital in Philadelphia. She spent several weeks there — initially as an inpatient and later as an outpatient — engaged in activities and exercises meant to help wake up the damaged nerves in her legs. Konkoly began to question how much her plans for the future would have to change.
"I was telling everyone I was going to walk out of the hospital in a few weeks," she said. "No one told me I wouldn't, but at the same time, my parents were told to build a wheelchair ramp for the house." Konkoly says the initial consensus was that she was likely to regain some function in her legs, although the degree of possible recovery remained unclear. "People were saying I might need a wheelchair for longer distances, or braces or crutches."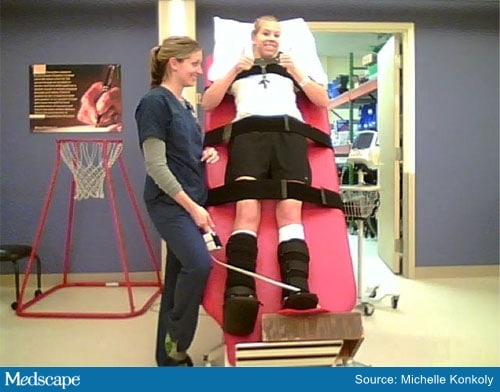 In February of 2011, halfway through her inpatient rehabilitation at Magee, Michelle Konkoly was placed on a tilt table in order to allow weight bearing through her feet.

 

During her inpatient stay at Magee, Konkoly received a surprise visit from Adam Taliaferro, a former cornerback for the Penn State Nittany Lions football team who sustained a paralyzing spinal cord injury in September 2000 and underwent rehab at Magee. "When he walked into my room and told me that he works out on the elliptical every day I was

…