medicine
Market forces rained on the parade of Editas Medicine, Inc. (NASDAQ:EDIT) shareholders today, when the analysts downgraded their forecasts for next year. This report focused on revenue estimates, and it looks as though the consensus view of the business has become substantially more conservative. At US$30.41, shares are up 7.4% in the past 7 days. It will be interesting to see if this downgrade motivates investors to start selling their holdings.
Following the latest downgrade, the current consensus, from the nine analysts covering Editas Medicine, is for revenues of US$19m in 2021, which would reflect a disturbing 79% reduction in Editas Medicine's sales over the past 12 months. Losses are supposed to balloon 113% to US$3.47 per share. However, before this estimates update, the consensus had been expecting revenues of US$24m and US$3.39 per share in losses. So there's been quite a change-up of views after the recent consensus updates, with the analysts making a serious cut to their revenue forecasts while also expecting losses per share to increase.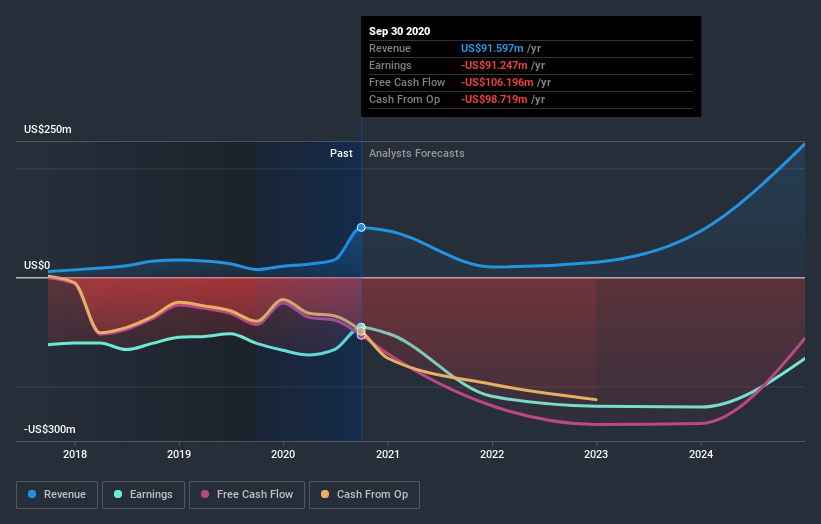 NasdaqGS:EDIT Earnings and Revenue Growth November 10th 2020
The consensus price target fell 8.7% to US$38.11, implicitly signalling that lower earnings per share are a leading indicator for Editas Medicine's valuation. That's not the only conclusion we can draw from this data however, as some investors also like to consider the spread in estimates when evaluating analyst price targets. Currently, the most bullish analyst values Editas Medicine at US$60.00 per share, while the most bearish prices it at US$14.00. So we wouldn't be assigning too much credibility to analyst price targets in this case, because there are clearly some widely differing views on what kind of performance this business can generate. With this in mind, we wouldn't rely too heavily on the consensus price target, as it is just an average and analysts clearly have some deeply divergent views on the business.
Looking at the bigger picture now, one of the ways we can make sense of these forecasts is to see how they measure up against both past performance and industry growth estimates. These estimates imply that sales are expected to slow, with a forecast revenue decline of 79%, a significant reduction from annual growth of 50% over the last five years. Compare this with our data, which suggests that other companies in the same industry are, in aggregate, expected to see their revenue grow 21% next year. It's pretty clear that Editas Medicine's revenues are expected to perform substantially worse than the wider industry.
The Bottom Line
The most important thing to take away is that analysts increased their loss per share estimates for next year. Regrettably, they also downgraded their revenue estimates, and the latest forecasts imply the business will grow sales slower than the wider market. The consensus price target fell measurably, with analysts seemingly not reassured by recent business developments, leading to a lower estimate of Editas Medicine's future valuation. Given the stark change in sentiment, we'd understand if investors became more cautious on Editas Medicine
…
Read More