fitness
Track Mafia isn't a running club – it's a community. "People don't just come for the exercise. They come for friendship," says founder Cory Wharton-Malcolm, "Beefy" to his friends and followers. "At Track Mafia, you'll meet chefs, illustrators, hospital workers, CEOs, TfL workers… Everyone has a common purpose." On Thursday nights at Paddington Rec's athletics track, there is no hierarchy. It's free, and novices train alongside pros.


© Provided by Men's Health UK
"Beefy" as he's better known talks about how he went from barely being able to jog to head coach (and voice) for the Nike Run Club app


Groups such as Track Mafia and Run Dem Crew, for which Wharton-Malcolm has also worked, have changed the face of recreational running. It's been said that the sport attracts a narrow demographic – slim, middle class, white. These crews are the antidote: a home for those who don't fit the profile, but take their running no less seriously.
When Wharton-Malcolm took up running in preparation for joining the 2007 London Marathon, he could barely jog to the bottom of his road without gassing out. "My friends laughed and said, 'You're fat, you smoke, you eat kebabs. How do you plan to do this?'"
They're probably not laughing now. Today, as well as fronting Track Mafia, Wharton-Malcolm is a head coach (and voice) for the Nike Run Club app, which during lockdown became the fourth most popular app in the UK. He has acted as a speaker in parliament and Buckingham Palace, talking about how sports can be used to engage young people, strengthen communities and reduce antisocial behaviour.
Championing inclusivity remains his MO, including opening up new pathways into top-tier jobs. "I think a lot of organisations feel, 'If this person wasn't taught the way I was taught, then they're not for us. We'll have to spend too much time showing them how to do things our way.' But don't you want to learn how to do things their way, too?"
Sign up to the Men's Health newsletter and kickstart your home body plan. Make positive steps to become healthier and mentally strong with all the best fitness, muscle-building and nutrition advice delivered to your inbox.
SIGN UP
For effective home workouts, uplifting stories, easy recipes and advice you can trust, subscribe to Men's Health UK.
SUBSCRIBE
Read More
fitness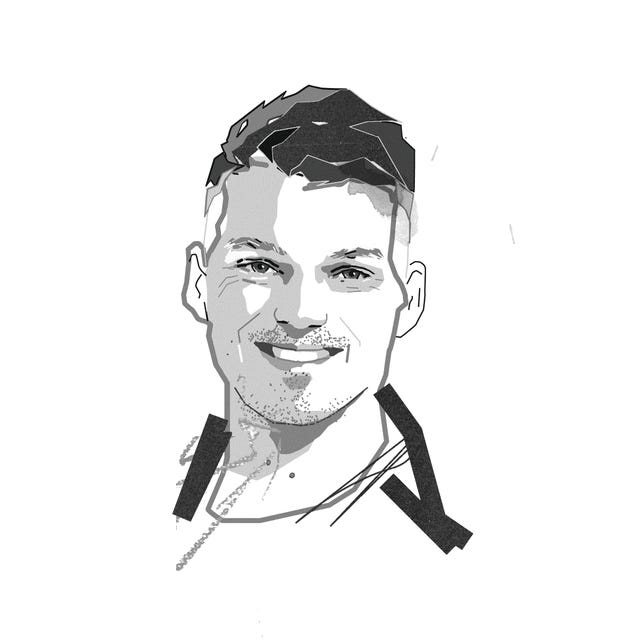 Noma Bar
"Fuck standing on the sideline. Fuck injustice. Fuck racism." Where some brands virtue-signalled vaguely in the wake of George Floyd's murder, Gymshark spoke out, donating $125,000 to Black Lives Matter and committing to driving change via its channels.
A "red thread" of community runs through the UK sportswear company, says founder Ben Francis, fresh of face at 28. "We're super-inclusive, super-caring, super-transparent." And unlike the older, clunkier competitors that it's circling, the spandex predator is "extremely agile". At the start of lockdown, it deftly changed its social media handles to "Homeshark" to remind its fam that: "This ain't no joke."
That nimbleness is despite Britain's fastest-growing fashion label swelling into a £500m megalodon based in Solihull in just eight years. The 500-plus staff also has outposts in Denver, Hong Kong and Mauritius. With no high-street stores, traditional advertising or outside investment, social media has turbo-charged the expansion of Gymshark, which Francis started in his parents' garage when he was 19, while studying business and management at Aston University by day and working at Pizza Hut by night.
"I wish I could tell you that it was this master plan," says Francis. As a 16-year-old, he was inspired to join a gym by fitness YouTubers. So, when he and friends began hand-sewing and screen-printing their own clothing, more tapered than traditional bodybuilder apparel, sending samples to their online idols seemed only fitting.
Francis has a big vision, too: "I want us to create the greatest community, and I want us to be the greatest fitness brand on the planet."
Advertisement – Continue Reading Below
1
Vital Long Sleeve T-shirt
GymShark's Vital Long Sleeve T-Shirt is exactly that: vital. It's lightweight, sweat-wicking and supple enough to keep you cool, calm and collected whether you're on a run or shifting tin in the gym.
2
Power Zip up Hoodie
gymshark mens
gymshark.com
£45.00
Oversized and large, this hoodie is perfect for workouts and for lazing on the sofa afterwards.
3
Vital Seamless 1/4 Zip Pullover
This 1/4 Zip pullover is perfect for any sport when the temperature drops. Its seamless construction ensures movement is effortless, while still keeping you fresh and focused with sweat-wicking technology.
4
Arrival 5″ Shorts
gymshark mens
gymshark.com
£18.00
Rep after rep and step after step, these lightweight sweat-wicking shorts are made for movement.
5
Crest Joggers
WFH means that we all need a good pair  of joggers and you can't go wrong with these, which are "super soft" and super comfortable.
This content is created and maintained by a third party, and imported onto this page to help users provide their email addresses. You may be able to find more information about this and similar content at piano.io
Advertisement – Continue Reading Below
Read More